I have designed this menu to celebrate the beauty of Wild Game and to showcase the amazing English produce on offer during this season.
– Chef Proprietor; Steven Ellis.
Available from Wednesday to Saturday for both Lunch and Dinner.
Selected items are available on the Sunday Menu.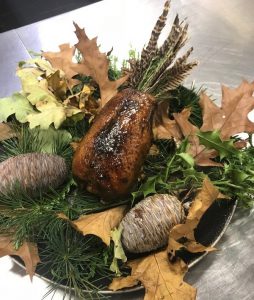 Hunters Pheasant ⋅ £25
Button Mushroom – Tarragon – Pomme Purée
Windsor Great Park Red Deer ⋅ £27
Braised Shoulder Croquette – Figs – Chicory Tart
Mallard for 2 ⋅ £49
Roasted Crown – Confit Leg – Boulangère Potato – Parker Bread
If you have a food allergy, intolerance or sensitivity, please speak to your waiter about ingredients in our dishes before you order your meal.
Please note: Game may contain shot.