Hello friends old and new of The Oxford Blue.
For a change – another busy month!
---
Our latest dish making its debut:
Steven posted a sneak preview of a dish he had been working on and the response was incredible. So many of our guests were trying to order it even though it wasn't on the menu yet! The Mozzarella is filled with pesto and then the whole tomato is dipped in a Bloody Mary jelly up to four times! Once finished, he tops the jelly with a tomato stalk, it then looks just like a Beef Tomato!
---
Our contribution to the Royal Wedding – Champagne Breakfast:
There was a lot going on around the 19th May with Prince Harry and Meghan getting married so we decided to add to the celebrations by serving up a breakfast before sending our guests away with a hamper full of goodies and a map showing where best to walk to get a good look at all the action. It went fantastically well!
So much so that we will be doing something similar on the last day of Royal Ascot!
---
This wasn't the only wedding we were involved with in May!
We held our first ever wedding here at The Oxford Blue which was the most beautiful day for the Bride and Groom. They had The Oxford Blue exclusively all day and were Wed in the front part of the dining room. They then enjoyed lunch with their family and friends. In the evening we put on a hog roast as they invited more guests to celebrate their special day. They had a DJ followed by a fantastic band. Beautiful day, Beautiful Wedding, Beautiful Couple, just perfect for the first Oxford Blue Wedding.
Crump.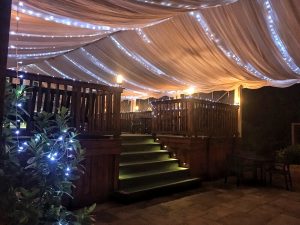 ---
English Wine Week
To celebrate, Margriet put together a list of English Wines available by the glass which went down very well, particularly the Davenport (Organic and made in Sussex).
---
Our latest dessert making its debut:
The Trifle! With Peach, Raspberry, Disaronno and Almond, you can almost taste it just from looking at the picture!
---
Coming up in June:
As we've mentioned above, we're going to be helping you celebrate Royal Ascot – keep an eye on our newsletter and social media posts for something special.
---
And finally, a mention of the GDPR etc…
We've kept it low key as we've always taken the position that you should opt into our mailing list we didn't need to send out yet another email asking you to sign up again. We'd rather pass on news and upcoming events to give you a refreshing change!
For those of you who do have an interest – we have our Privacy & Cookie Policies available on the website and we welcome any feedback – just send us an email to info@oxfordbluepub.co.uk for the attention of our General Manager Daniel